Santa Barbara, Santa Barbara Free Methodist Church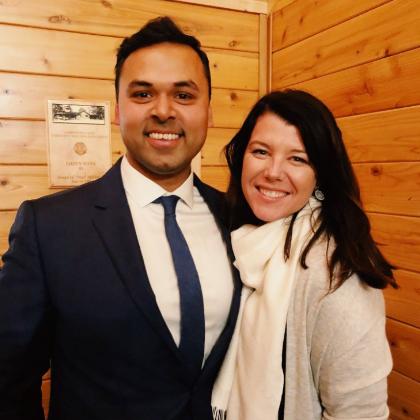 I met Christ at the age of 10, while at a Youth Camp in Roanoke, Virginia. This experience was truly transformational for me, as Christ became my hope and secure foundation in life. God healed my childhood wounds, became my security in faith, and gave me confidence to be myself. I felt loved instantly when I gave my life to Christ, and this love was further reinforced by the love of the Church. As a young child, the Church helped raise me when I had little family and provided for me when I had little money. They represented Christ in action to me, and had a deep impact in why I want to serve the church as a pastor now.
I have always understood God's calling in my life to be simple: love God and love others faithfully. I also believe I am uniquely and wonderfully made as God's creation; and therefore, will live out this calling in a unique and specific way. Ephesians 2:10 reads: "For we are God's workmanship [poema], created in Christ Jesus, to do good works which God has prepared in advance for us to do." The term 'workmanship' comes from the greek word 'poema', and is best understood as 'poem' in English – and so as God's unique poem I believe my strengths, talents, and life story are destined to fulfill this universal call to love God and to love others. It is for this reason, I believe this calling is lived out best when I use my gifts to preach, teach, and declare the Good News of the Gospel in service to others. I hope to devote my life to being a voice of hope to our community, and to be a person of service to those often marginalized and disenfranchised in our communities.
My husband and I were invited to Santa Barbara Free Methodist by our dear friends Joshua and Alyssa Canada, so I could hear Reverend Colleen Hurley-Bates preach. As a woman, passionate about supporting women serving as pastors, Joshua and Alyssa knew I needed to come to Free Methodism. As soon as my husband and I walked into the church, we knew we had found our home church. We were new in Santa Barbara, and the church's hospitality and passion for justice made it clear we needed to be members and be a part of the good work of Free Methodists.